Have you noticed that the Stampin' Up! catalog(s) aren't just "catalogs" to shop through, they are actually INSPIRATION books ~ and you can find ideas on every page for your crafting?
Take this page (p.95) of the Annual Catalog…you don't need to have the same stamps, ink or paper to make a cute card inspired by these: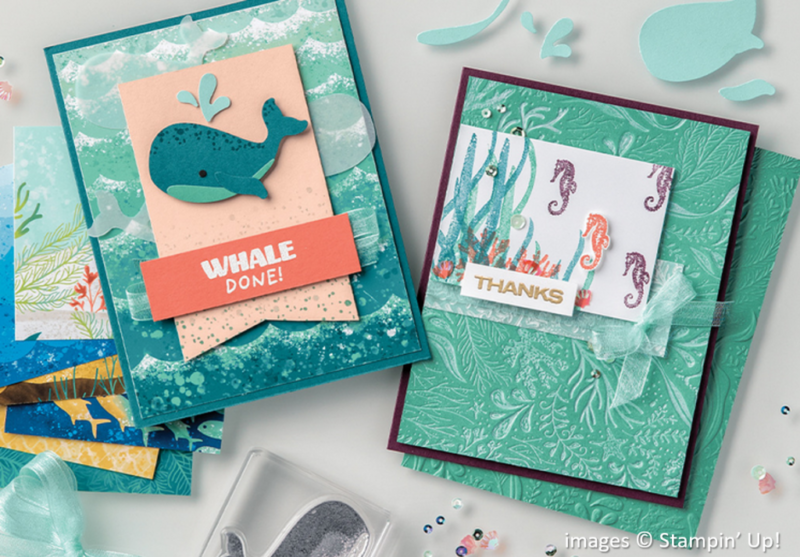 The #SUOC256 challenge this week encourages stampers to use catalog samples as sketches and create something inspired by them. This is my version:
Can you see how I followed the Whale Done card sketch? You will NEVER lose your mojo as long as you have an idea book to get your juices flowing!
Speaking of juice, the Cute Fruit photopolymer stamp set is only in our "Getting Started" brochure, so you may not have seen it yet, but it is my "stamp set of the summer", even as summer comes to a close.
I appreciate that you can also purchase the Cute Fruit set in a collection of products (ideal for a GIFT or new stamper)!
To add shading to the pineapple, ink it up in the lightest color (Bumblebee in this case), then add some darker color ink (Cinnamon Cider) to the stamp using a sponge dauber BEFORE you stamp it. The colors will blend together beautifully.
Embrace your catalog as your IDEA BOOK and you'll never run out of ideas!