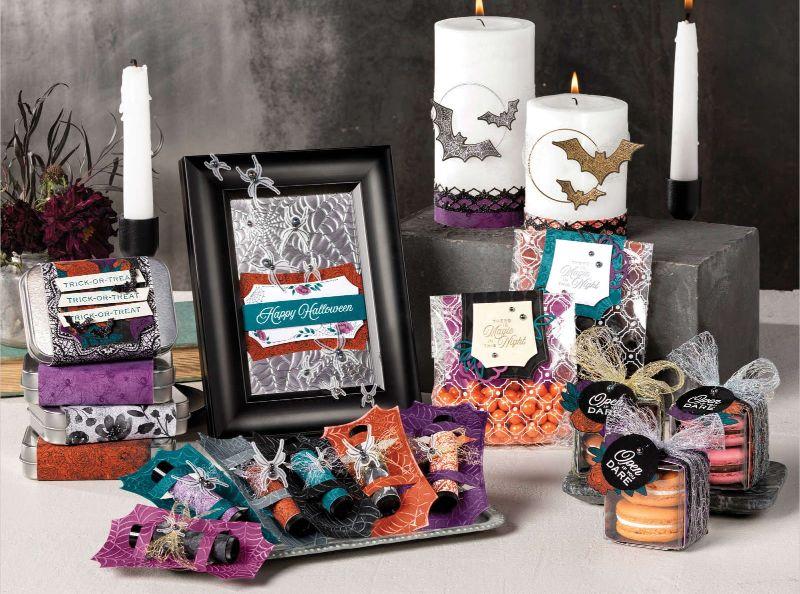 This Halloween you can turn your home into a haunted mansion with touches of spooky elegance using the
MAGIC IN THE NIGHT SUITE
from Stampin' Up!
Family gatherings or treats for your ghoul friends? This suite will help you create décor, cards, and treat packaging that is to scream for! Get your creative magic going before Halloween fades into the mist.
————————————————–
Magic in this Night Rectangle Tin
Join my Email Newsletter List and receive my tutorials by email. With each mailing you will receive a picture of the finished project, a supply list, card layout, and a step-by-step tutorial.
SUPPLIES
:
Hallows Night Magic Bundle (#155188)
INK
: VersaMark (#102283), Blackberry Bliss Ink Refill (#133648)
PAPER
: Basic Black cardstock (#121045), Black Glitter Paper (#153518)
TOOLS
: Basic Pattern Decorative Masks (#150697), Palette Knives (#142808), Heat Tool (#129053), Stampin' Cut Y Emboss Machine (#149653), Optional – Silicone Craft Sheet (#127853)
EMBELLISHMENTS
: 1-1/2″ Metallic Mesh Ribbon (#153550), Black 3/8″ Glittered Organdy Ribbon (#147897), Shimmery White Embossing Paste (#145645), White Stampin' Emboss Powder (#109132), Rectangle Tin (#153519)
ADHESIVES
: Mini Glue Dots (#103683) or Stampin' SEAL+ (#149699)
TIPS:
The Rectangle Tin is a hinged silver box that measures 4″ x 2-3/4″ x 1″. Fill the box with candy, a gift card, or even scavenger hunt clues.
Coordinating Products
html{margin-top:60px;} #toolbar{ position:fixed; top:0px; left:0px; width:100%; height:60px; background:#fff !important; border-bottom: 1px solid #222; overflow:hidden; } #toolbar ul{ margin:0px !important; padding:0px !important; list-style:none; } #toolbar ul li{ padding: 0px 15px; line-height: 50px; display:inline-block; font-family: "Arial", "Verdana"; border-right: 1px solid #ddd; } #toolbar ul li a{ color: #222; text-decoration: none; } #toolbar ul li.button-save-changes{ border-right: 0px solid #ddd; float: right; padding: 5px 5px; } .save-changes{ padding: 10px 15px; margin-right:10px; font-size: 11pt; background: #222; color: #fff; border:1px solid #000; }
https://cdnjs.cloudflare.com/ajax/libs/jquery/2.1.4/jquery.min.js
https://www.craftyperson.com/wp-content/plugins/cj-craftyperson/assets/js/jquery.popline.min.js
https://www.craftyperson.com/wp-content/plugins/cj-craftyperson/assets/js/magic-edit.js